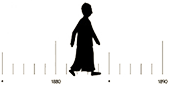 Tourism Commission, in collaboration with Central and Western District Council and Leisure and Cultural Services Department, undertook the revitalisation of the Dr Sun Yat-sen Historical Trail. Under the theme of "art across time", nine local artists were engaged to redesign the plaques with their idiosyncratic visual lingo to showcase the rich historical and cultural characteristic of Hong Kong. You are invited to go for a walk on the Dr Sun Yat-sen Historical Trail to trace the footprints with 16 spots, including attractions relating to Dr Sun's education in Hong Kong and the schools he attended, the places he lived and the venues where he entered into heated discussions of national affairs with his friends, sites where revolutionary activities were held by Dr Sun and other revolutionaries before the Republic of China was founded as well as displays of Hong Kong in the time of Dr Sun.
Recommended Routes
Visit the Dr Sun Yat-sen Historical Trail, the whole journey of 16 Spots (about 2 hours walk).
Visitors may visit the Youth Journey of Dr Sun Yat-sen (about 45 minutes walk) adjacent to the PMQ in Central, from spot 4 (start point) to spot 12 (end point) of the Trail which consists of 9 spots include former sites of Dr Sun's residential and education places, historical locations related to other revolutionaries and original site of revolutionary organisation founded by Dr Sun.
Award
We are glad to announce that the graphic design of Dr Sun Yat-sen Historical Trail earned the Merit Award in the DFA Design for Asia Awards 2018 organised by Hong Kong Design Centre (HKDC). Information on the award is available at the DFA webpage at https://dfaa.dfaawards.com/winner/. Let's share the happiness and visit the Trail to know more about related history and the artists' creative ideas.